Kayak Cutie and I decided to take a little mini-vacation this weekend.  We found a good rate at the Crowne Plaza – Westshore near Tampa Int'l Airport. Arriving mid-afternoon on Saturday, we hit the Salvador Dali Museum in St. Petersburg, had a stellar dinner at Doormet (Truffle Mac 'n' Cheese!), and retired early. Slept in on Sunday with a leisurely late check-out, and headed back down to St. Pete to our planned launch at Fort De Soto Park.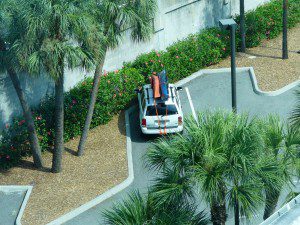 Launch
My original plan was going to take us from a Gulf-side launch out to Egmont Key, but after careful consideration and some input from a more experienced kayaker, I decided to keep us on the calmer Tampa Bay side instead. De Soto has dozens of great launch sites on both the Gulf and Bay sides. We chose a site around an 8th of a mile SSW of the De Soto kayak concession area. A 4WD vehicle was very helpful on the muddy roads leading to the launch, but there were also plenty of other spots where that wouldn't have been necessary. Drop in was easy – parked less than 20 yards from the water.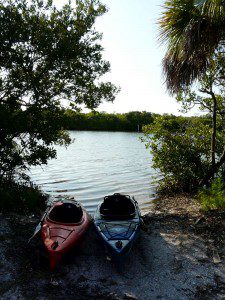 Mangrove Swamp
The launch site starts in a mangrove swamp. It's labeled as a kayak/canoe trail, and much of it is strictly off-limits to motorboats of any kind, which is nice.  The trail isn't bad, but with the weather in the 90's, the dense mangrove trees blocked most of the breeze, and there wasn't much in terms of wildlife.  We encountered a few manatees and a couple of birds, but were much happier once we hit more open waters, even though the difficulty picked up a bit.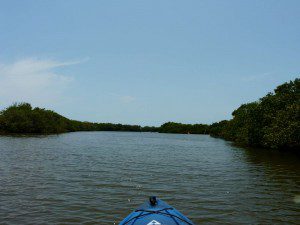 Bunces Pass
Bunces Pass is a somewhat busy channel that connects the Gulf of Mexico with Tampa Bay. Most of the traffic was recreational, as a much larger channel is around 4 or 5 miles to the south, but it was busy nonetheless. Wave-runners and other small-to-medium sized boats zipping by at full-tilt make for a slightly unnerving paddle across, but it wasn't too bad. We headed north across the channel to a protected barrier island called Shell Key.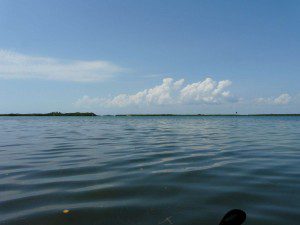 Shell Key
Once out of the channel, the paddle became much easier as we closed in onto the Key. We beached the boats at the southernmost tip of the key, had a nice swim, and roamed the beach for a bit picking up lots of cool shells. Camping is allowed on the Key with a permit – adding that to the list of potential kayak camping locations for sure.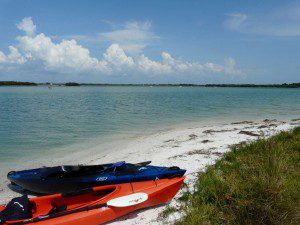 Dolphins!
After lazing about on Shell Key, we packed up and headed back across the channel.  "DOLPHIN!" I shouted to KC. "Nine O'Clock!" Finally, on our third saltwater trip, we saw dolphins playing in the water.  They weren't extremely close, but close enough to appreciate them clearly. They disappeared shortly after a few powerboats sped through.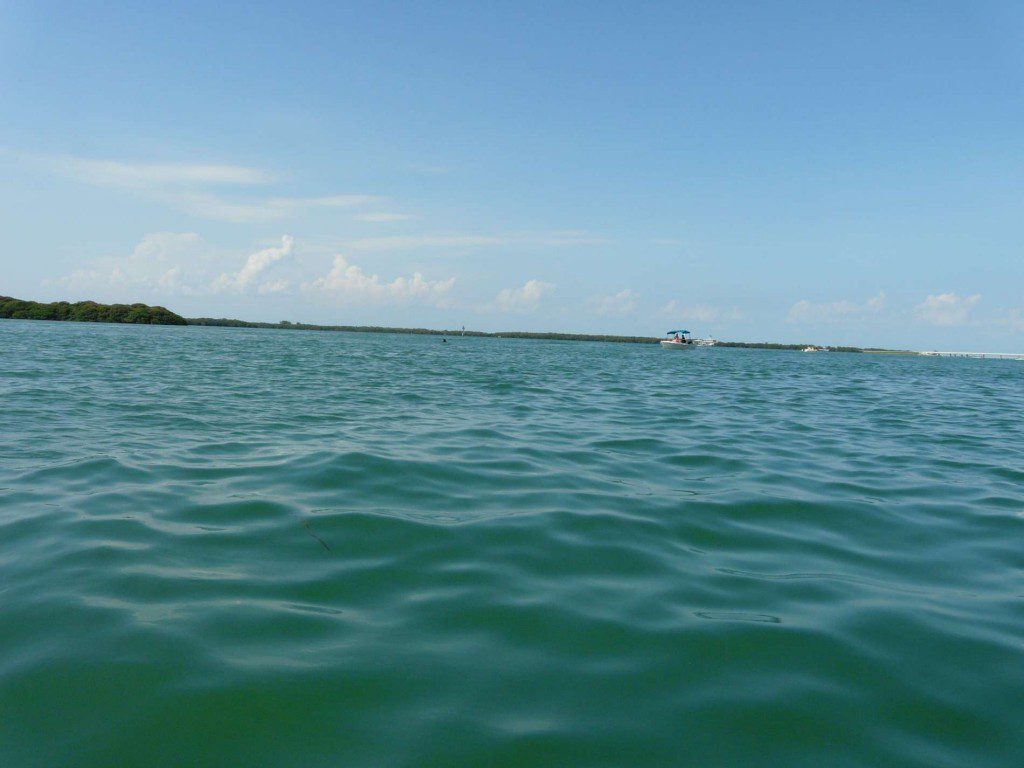 ALERT … ALERT
Even though the skies were pretty clear when we launched, the NWS had predicted potentially severe storms later in the day, so I brought my NOAA weather radio with alert.  Around half way back to the launch site, the alarm wailed from my dry-storage. There was a SERIOUS storm rolling in, bringing a potential for quarter-sized hail and 60+ MPH winds. It ended up being farther away than I initially thought, but we picked up the pace a bit regardless.
Home Time
We made it back to the put-in before the storms were even close, though thunder was in the distance as we strapped the boats down for the 2 hour drive home. We did drive through some NASTY weather on the way home. The sky looked like a strobe light with all the lightning. I'm pretty sure it hailed a few times, and those gusts of wind really rocked the SUV with those two kayak sails on top, but everything stayed in place and we arrived home safe and sound.
6 miles on the water today.  Here's the map.
Comments
comments